Shareholders benefit – the third metrics of investing. Investing in a company with good shareholder benefit could actually save you money.
In the state, shareholder benefits are so good that it pays to buy the minimum lot and save thousands. There is discount purchase (ford car at staff price), premium gifts, cruise credits, even free passes to theme parks.
There aren't much to brag about here in Malaysia. But you still could get something if you attend the company AGM. Here is a peek to what you get by becoming a loyal investor. The drawback: Most AGM happens on weekdays during working hours, a clear signal that you got to be a boss to be so free to attend. Also, so door gifts may not worth a loner trip as it cost quite a bit to travel around Klang valley. So get your family or neighbors on board and bring the whole kampung there to share the joy. Remember, they need to own the shares, not just tag along.
A note of caution: You may see people rushing for food like famine or world war just ended. Rich people get rich for being frugal.
AirAsia RM500 ticket voucher with 3000 shares.
Affin Holdings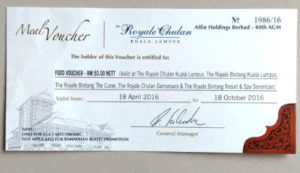 Berjaya Group of Companies – Kenny Roger 1/4 set pack for lunch
British American Tobacco (2016)
BDB (2016) – RM100 parkson voucher
Carlsberg – It's usually 6 bottles of beers and RM40 off voucher.
Digi – RM100 food voucher and RM 50 prepaid card
Genting group of companies – RM50 Oldtown voucher
HARTA – Two box of latex gloves
Hicom – RM500 proton voucher